Do males have a "special" time during each month where the testosterone in their bodies is built up to such levels it causes them to loose all common sense? I'm convinced yesterday was that day.
Bryson came home from a sleepover with his grandfather sporting a new double bladed Star Wars light saber. Thank goodness because if a rebellion against the empire ever broke out I wasn't sure we were fully protected.
I call the red one!
Of course Tyler, being the mature 13 year old he is, jumped at the opportunity to engage in an epic dueling battle with his brother.
Most of the time these episodes end badly. This was no different.
While in the kitchen, trying to scrub some mystery substance off the floor, I hear the muffled sounds of light sabers crashing together. Its amazing how much noise I can tune out.
Then I hear a not-so-unexpected "OW" bellow from my older son. Since it was not followed by a steady stream of more cries I figured Tyler got whacked hard, but didn't require medical attention or my motherly intervention.
I glanced over to see Ty laying on the sofa writhing a bit, but alive. Bryson quickly gave a genuine apology and followed up with the classic, "I didn't mean to...". This one phrase is the backbone of all male language.
About five minutes had passed when I saw Tyler, still on the couch, thrust a pillow square into Bryson's eyes, who fell to the floor, crying.
Have you ever had a moment when you knew the words coming from your mouth were not appropriate to say in front of children, much less
to
them, but once they began pouring out there was no turning back? If not, it sounds something like this:
"WHAT THE FUCK IS WRONG WITH YOU!?!?"
I tried. I tried my best not to go off on him. But his blatant attempt to hurt his brother was out of line. Ty quickly raised his hands in the "What did I do?" formation, which just pissed me off more.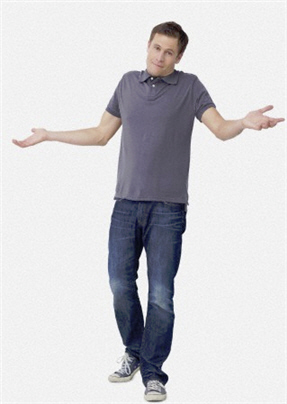 I sent him to his room and tried to calm myself down before I went on my verbal tirade.
I lectured that kid for 5 minutes straight about being more mature, not purposefully hurting his brother, all while trying to defend my out-of-character language. I took away his use of electronics for the rest of the day and closed by saying, "Grow up".
Yes, I am one big parenting cliche.
I dropped the baby on Brian's lap downstairs and told him I was taking a shower. I went into our bathroom and looked in the mirror to brush my teeth. Staring back at me was a
giant
green salad leaf next to a massive black peppercorn stuck right on top of my two front teeth.
No wonder these kids don't take me seriously.
Fast forward a few hours later. I'm making dinner, which I was already irritated by because I almost served raw chicken. Brian, Ty and Bryson are kicking, jumping, and tackling each other like a freakin UFC match when I hear the sound of Nolan's little head hit a table and a loud cry.
THAT. IS. IT.
I grabbed a toy golf club that was in Nolan's hand a chucked it down the stairs. Not only are the kids acting a fool, but their father is the damn ringleader!
I've had it with these boys! I take Nolan (who is OK) to my room and shut the door. Brian follows to make sure the baby is alright, and apologizes profusely for getting carried away.
I just don't understand why they have to be SO goddamn destructive! They are always either breaking something or hurting each other.
I finished dinner and we all sat and ate. In silence. The only words said were "Wow mom dinner is so good" and "Yea honey this is the best you've EVER made."
Damn kiss-ups.
After dinner I sat with Nolan so he could finish eating. Bryson comes over and says, "Here mom let me take that for you", clearing away my plate and silverware. The kid is good.
A few minutes later the kids are in the living room playing this game "1 2 3, Ninja!" I could hear Tyler's pubescent/manly laughs, Bryson's non-stop giggles, and Nolan loving every minute of their shenanigans.
I couldn't help but crack a smile.
It's amazing how love for your kids can prevent you from committing a felony.
Have you ever said something crazy because of your kids?
SMH in Boyland,